Cardiff University training to 'transform' Namibian healthcare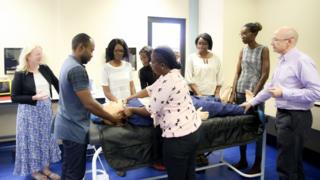 Hundreds of Namibian women who die in child birth each year could be saved because of a Cardiff University-led project.
Currently there are just 10 state anaesthetists - a specialist that gives pain relief and monitors patients - in the African country of 2.5m people.
Women are 17 times more likely to die in childbirth than in Wales, partly because of this lack of professionals.
Cardiff University aims to train more with the University of Namibia (UNAM).
As well as administering pain relief, an anaesthetist stays with a patient throughout a procedure, monitoring things such as heart rate, blood pressure and oxygen levels.
The specialist doctors are able to respond to problems and advise on any additional help or medication needed.
The Phoenix Project offers a four-year Masters course which is aimed at addressing the shortage of anaesthetists which leaves patients facing long waiting lists for surgery and a lack of specialist care during emergency operations.
To put the shortage into context, if Namibia had a proportionate numbers of anaesthetists to Wales, in terms of population, it would have at least 300 qualified specialists or consultants.
Course leader Prof Judith Hall said the course would create a new body of professionals to "truly transform care".
UNAM's Prof Frednard Gideon described the link-up as "a huge relief" and said it should help create a sustainable system in the country.
The first students begun in February, with Phoenix covering a variety of projects including road safety initiatives, specialist training for nurses and midwives and software development.