Cardiff mosque extension plan granted with conditions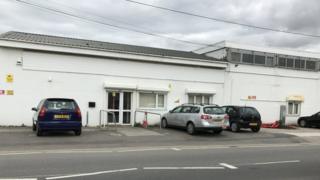 Plans to extend a mosque used by members of the Ahmadiyya Muslim Association have been given the go-ahead, despite hundreds of objections over traffic and noise fears.
The community currently meets at a former office block on Sanatorium Road in Cardiff.
Cardiff council planners said they would be able to make it into a two-storey mosque with minaret, dome, community hall and Imam's residence.
Planning was granted with conditions.
Objectors to the proposals had gathered a 500-signature petition and a letter of concern was sent to the planning committee.
They fear the extension will disturb the sleep of nearby residents and the scale of the development to be "excessive".
The go-ahead given by Cardiff council's planning committee is subject to transport conditions.
These include providing parking provision for both cars and bicycles, and a plan to encourage people to use "sustainable transport".
The committee also asked for no external public address system to be used to call worshippers to prayer and the mosque to not be used between the hours of 23:00 and 04:00.
Planning permission for a similar scheme had previously been refused by the committee last March.
However, an appeal was lodged with the planning inspectorate, who agreed to consider the case pending the outcome of the latest application.