Bridal shop owners conned customers out of £12,000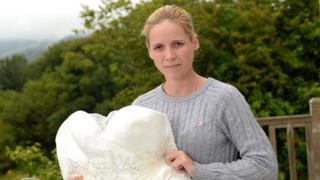 The owners of a wedding dress boutique, who conned brides-to-be out of nearly £12,000, have been convicted of fraud.
Melanie Bishop, 36, and her mother Patricia, 60, of Oakdale, Blackwood, sold gowns from a "local workshop" that were actually stitched in a Chinese factory.
The pair avoided jail after pleading guilty at Cardiff Crown Court.
They each received sentences of six months in prison, suspended for one year and three months, on Monday.
Another 20 charges will lie on file.
Customers of the Anna Sara Bridal shop in Commercial Street, Newport, raised the alarm after spotting "made in China" labels, and campaigned for refunds.
The Bishops closed the store in response, leaving about 100 more brides-to-be worried they would be without a dress.
Melanie Bishop claimed her customers should have known their dresses, which ranged in price from £700 to £1,000, were manufactured in China and said she was the victim of a campaign of "abuse and lies".
Bishop said: "The reality is that these women have rallied together and whipped themselves up into a hysteria that is only based on one thing - the fact that my dress suppliers are based in China."
A Newport Trading Standards investigation ended with Bishop and her mother being charged with fraud.
'Inferior Quality'
Both women pleaded guilty to 18 counts of engaging in unfair commercial practice between March 2015 and April 2016.
The court heard the pair accepted they had claimed to have designed and made the dresses themselves.
They pleaded guilty to failing to inform customers the wedding dresses were actually made in China, falsely stating they would be made in their local workshop.
Judge Jeremy Jenkins said: "The dresses in some cases would not fit, they deviated in colour and they were not hand made, one-off, or bespoke as was advertised.
"Many brides were left with no choice other than to accept the dresses of inferior quality."