'Bittersweet' TV award for dementia carer Beti George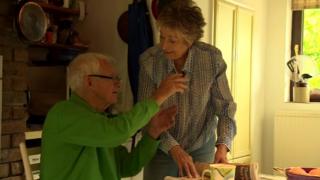 A documentary which followed the partner of veteran broadcaster David Parry-Jones, who cared for him as he lived with dementia, has won an award.
Beti and David: Lost for Words, which was broadcast on BBC One Wales, took gold at the New York Festivals International TV & Film Awards.
Mr Parry-Jones' partner, Beti George, a BBC Radio Cymru presenter, said the honour was "bittersweet" as it came a year to the day after he died.
She said he would have been proud.
Ms George allowed cameras into her Cardiff home to film her day-to-day life caring for her partner, who was diagnosed with Alzheimer's disease in 2009.
She said she decided to take part in the documentary to highlight what life was like for carers.
"I was driven to do it because I felt that the voice of the carer in Wales wasn't heard at all," she told Good Morning Wales.
"It can be isolating. Sometimes I would think to myself, 'God, it's only me against the world'."
Following the documentary's broadcast in February 2017, Ms George spoke about how she believed a revolution in dementia care was needed in Wales.
After winning the award in Las Vegas on Tuesday, she said she was still campaigning and there was "a lot more work to do".
Attending the ceremony was difficult, she added: "It was very bittersweet because it was on the very day last year that I lost David... I would have liked David to be with me of course and I still miss him terribly.
"I think he would have been very proud of not just the award but of the recognition and of the campaign."