Emergency Gwent Levels and Severn Estuary sewage pipe repairs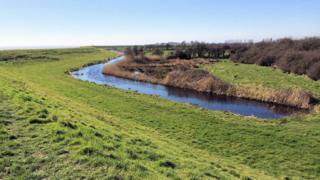 Emergency repairs are being carried out to a broken sewage pipe after fears it could affect protected areas.
Natural Resources Wales (NRW) said the "fracture" was at Magor, near Caldicot, close to the Gwent Levels and Severn Estuary.
It is working with Dŵr Cymru Welsh Water to fix the pipe and manage sewage flows using "emergency storm outlets".
NRW said it would keep a close eye on water quality in the area.
Holly Sisley, from NRW said: "Repair works are happening close to the footpath and there may be odour and traces of sewage visible for a short stretch."