Man paralysed in New Zealand fall in wheelchair games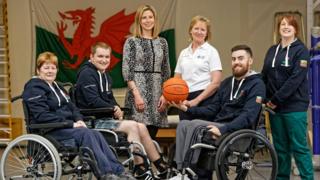 A man paralysed in a fall while working in New Zealand is taking part in a spinal games competition five months after the accident.
Matthew Williamson was brought home to Caldicot, Monmouthshire, last month following a crowdfunding campaign.
Now, along with other patients from Cardiff's Rookwood hospital, he is competing at the Wheelpower Inter-Spinal Unit Games in Buckinghamshire.
"I don't want [a wheelchair] to stop me being fit and healthy," he said.
Mr Williamson, who was working as an industrial abseiler, became paralysed from the chest down when he fell 13ft (4m) from a ladder.
Apart from the journey home, it is the first time he has left a hospital environment since his injury, a story repeated among some of the other six Rookwood participants in the "Rookwood Rookies" team.
Since going to the hospital after his return in March, he has been learning through physiotherapy to "push myself on a daily basis as I learn to adapt to my body's changing needs".
Mr Williamson said: "I am determined to keep positive as I come to terms about the reality of my new life by pushing the boundaries - and I think sport has an important part to play.
"Participating in the games will be the first time that I have had the chance to properly get outdoors and meet other people in similar situations to me.
"I'm a keen sportsman, so want to try all the sports, succeed at the very best of my ability at the games, and ultimately see which of them I'm best at to then take on for the future and hopefully enjoy on a regular basis.
"I'm really looking forward to getting to know my team mates more too."
The games are taking place at Stoke Mandeville Stadium in Aylesbury, known as the "birthplace" of the Paralympics, with 100 contestants from spinal units around the UK.
They include events such as archery, rugby, athletics, basketball, powerlifting, boccia and swimming, and run until Friday.