Cornelly United: Car hits 11 teenagers at football match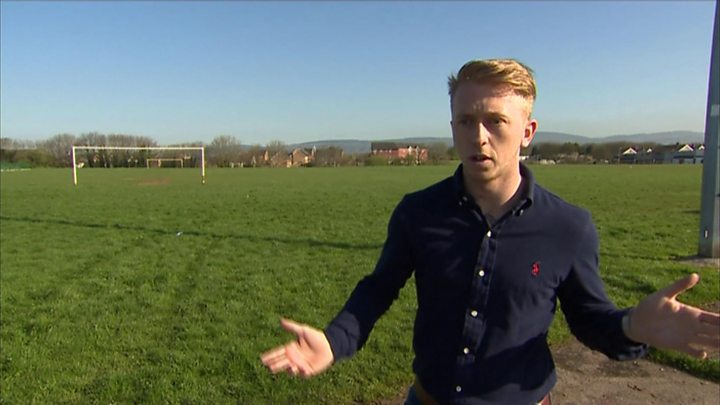 A football club has said it is "truly shocked" after a group of teenagers were injured when a car collided with them after a match.
A 35-year-old man was arrested following the incident at Cornelly United's ground in Bridgend county at about 20:00 BST on Thursday.
South Wales Police said 11 people were taken to hospital and injuries included a possible broken pelvis.
Both players and supporters are said to be about 17 and 18 years old.
Police say a 35-year-old has been arrested on suspicion of wounding with intent
Joe Jones, Cornelly United FC club secretary, said the incident happened after Cornelly's reserves team beat Margam 5-0 at its Meadow Street ground in North Cornelly.
He said the players were standing in the car park on the grass when the BMW car collided with them.
"It was horrible. There were parents there, there were people rushing over to help," he said.
"The ambulance and the police were amazing, how quickly they got there.
Cornelly United tweeted that its player Scott Walker has tissue damage in his knee and his hip.
"He will be on crutches for the next few weeks and will also need lots of physio," the club said on Twitter.
"Things could have been a lot, lot worse."
Det Insp Claire Lamerton urged people with information and footage to get in touch and not to share videos on social media, saying: "This could frustrate our investigation."
Two fire crews were called to assist police, while the Welsh Ambulance Service said it sent three emergency ambulances, two rapid response units and members of their hazardous area response team.
Cornelly United tweeted to thank people for their messages of support after a "crazy night".
"We're truly shocked by tonight's events, but thankfully, no player is critical," it added.
'People were very upset'
Local people in North Cornelly said they could not believe what had happened.
Ruth McAneney, who lives across the road from the club, went to help those injured.
"I looked over and a group was huddled around a boy. I went over to help," she said.
"The boy was freezing. I asked people for jumpers and t-shirts to keep him warm.
"He was conscious and sitting up. I stayed with him until his mum got there. I'm still totally shocked."
Ben Harries, 18, who lives near the field, heard the emergency services arrive and rushed to the scene.
"I started to hear all the commotion just before eight o'clock and that's when the emergency services started to arrive," he said.
"A lot of people were being treated and the police were there trying to find out exactly what happened.
"People were very upset. They were trying to come to terms with it."
Les Rose, 81, has been a Cornelly community councillor for 52 years and was the chair and secretary of the club for 40 years, up until about 15 years ago. He heard about what had happened from his grandson this morning.
He said: "I feel for the parents whose children were involved."
"We're a close-knit area... everyone knows everybody. It's a lovely area to live in. I'm devastated by what has happened."
One woman, who was on the school run on Friday morning, said she knew the mother of one of the injured boys and she had text her the night before to say her son was conscious, talking and having X-rays.
Cornelly United play in the South Wales Alliance League First division - the sixth tier of Welsh football - and other clubs offered their support for the players.