Tallest building for Cardiff gets 'topped out'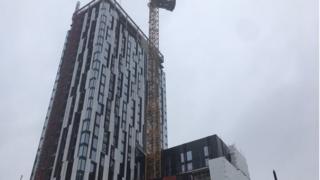 A topping out ceremony will be held in Cardiff's tallest building, as its construction phase draws to a close.
The event will be held on the 26th floor of the city's latest student accommodation block, the Bridge Street Exchange.
Towering at 85m tall (279ft), it provides 477 student rooms and studio apartments.
The building has two roof gardens, a gym, cinema, laundry and social space.
The tallest fully-completed buildings in the capital were previously the 80m (262ft) high Capital Tower and 78m (256ft) BT Tower. The construction of a 132m (433ft) tower for Cardiff is yet to get under way.
Watkin Jones plc is developing the Bridge Street Exchanges, which previously housed retail units and restaurants. The façade to the Charles Street elevation has been retained, as it falls within a conservation area.
An application to allow non-students to live in the Bridge Street Exchange building in its first year has been submitted to Cardiff council. There are also plans to build four duplex apartments on the site.