Plans put forward for Cardiff reservoir's future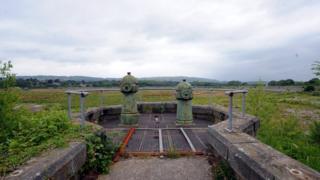 "Water-based activities", a cafe and visitors' centre could be introduced on the site of a former reservoir.
Welsh Water, which owns Llanishen reservoir in Cardiff, has produced a leaflet for resident outlining ideas for the site.
The firm declined to provide further details, saying its policy was to consult with local residents first.
But councillor Phil Bale said he expected local residents to be "delighted".
"It's very encouraging that they are listening to the concerns of local residents," he said.
Welsh Water is also looking into providing environmental and bio-diversity projects, the leaflet says.
Campaigners have fought plans to develop the site ever since former owner, Western Power Distribution, put forward plans for 300 homes in the area.
In 2013, Western Power lost its final planning appeal and sold the reservoir to steel company Celsa UK.
In January 2016, Welsh Water struck a deal to buy Llanishen reservoir on a 999-year lease.
It has been draining the reservoir since autumn to clear vegetation that has grown underwater over recent years. This is necessary to check the condition of pipes underneath.