Fear and heartbreak on condemned Merthyr Vale flood streets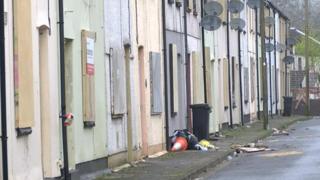 Two streets in a former south Wales mining village were once home to a thriving community - now they lie virtually abandoned.
The risk of catastrophic flooding in Merthyr Vale means more than 100 houses in Taff Street and Crescent Street are earmarked for demolition.
For those few left behind, there is anger, grief - and fear.
One of those still there said he slept with a hammer next to his bed - afraid of break-ins and thieves.
"You can hear them at night targeting the empty properties and smashing windows so they can get in to steal any scrap metal," said the resident, who wanted to remain anonymous.
"They'll take radiators, boilers anything they may be able to get a bit of cash for.
"It's really unnerving and I don't feel safe here anymore because it's happening most nights.
"It just feels dangerous here now and it was a great community. But that's all gone."
The terraced houses look out over the River Taff, across to Aberfan - the village where 116 children and 28 adults in the village were killed after a waste tip collapsed in 1966.
Plans to demolish the homes moved a step closer last month, after Merthyr Tydfil council approved a forced sale plan.
Some of the homes will be made subject of compulsory purchase orders (CPO).
So far, 52 of the houses have been bought by the local authority. A further 54 are owned by Merthyr Tydfil Housing Association, while the remaining six have yet to be purchased.
But while some residents have been happy to move on, it has brought heartache to others.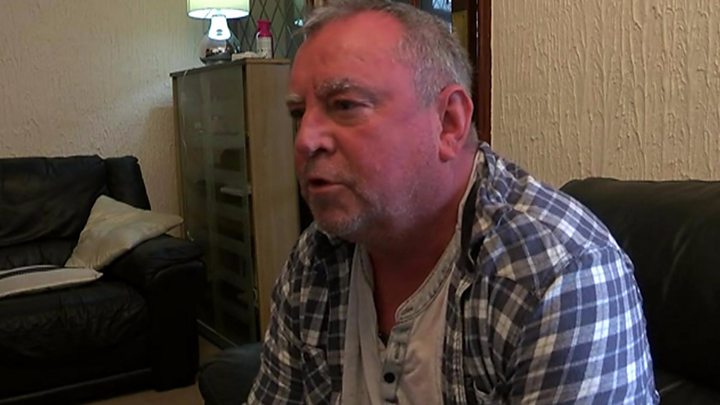 One of those is David Roberts, who eventually agreed to sell his home and moved at the start of April.
"I'd lived there for 30 years and raised my two children on Taff Street. I didn't want to move. I have very good memories," he said.
"In the summer everyone would be out on their doorsteps on their deck chairs or garden chairs having a cup of tea and a catch up outside each others houses and kids would be in the park playing."
Mr Roberts said he had spent time and money improving his home, and building an extension at Taff Street. Physical and mental health issues now mean he's too unwell to do the same at his new house.
"My bedroom is in the front room of the house because I'm too unwell to get the upstairs sorted. I feel I was forced out," he said.
"With all the break ins, it was getting a bit dangerous in the last few months, and I wanted to sell before a CPO. But I never got flooded and I'm living by a river now.
"So I'm in the same position. I just don't understand why they're knocking the houses down."
For now, the council said there had been no compulsion on home owners to move out - and all had done so by mutual agreement.
The council said it was paying the market price for properties, and for those eligible, a further 10% for relocation.
Council officials added that the authority is also paying moving costs and legal bills.
However, now former Taff Street resident Mr Roberts reflected: "I've never seen a street like it to be honest with you.
"But that whole community has now been split up and we won't get that again"