Children hurt in school bus crash in Swansea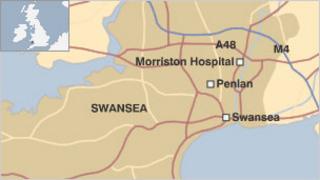 More than 60 children were involved a collision between two school buses in south Wales, say police.
Several children received minor injuries in the incident on Heol Gwyrosydd, Penlan, Swansea, at around 1530 BST.
South Wales Police said one 14-year-old was taken to the city's Morriston Hospital for treatment to a minor head wound.
Police are appealing for any witnesses to the incident to contact them on 101.
One bus was carrying about 30 children, when it was in collision with another bus, which was carrying a further 35 children.
Mid and West Wales Fire and Rescue Service said it sent a crew each from its Swansea central and Morriston stations to the scene.
A crew rescued one boy using a spinal board, said a spokesman.