Herbal remedy for Prince Charles' Myddfai neighbours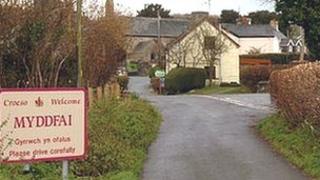 A village near Prince Charles' Welsh estate has started to market produce based in part on old herbal traditions.
Myddfai in Carmarthenshire won more than £400,000 lottery backing for the regeneration initiative.
It was chosen with five others for the BBC's Village SOS series challenging communities across the UK to come up with novel ideas for new businesses.
It plans to market itself as a destination for well-being breaks and other holidays amid the Brecon Beacons.
Myddfai's products include herbal teas, luxury soaps and plant-based cosmetics.
Other items now being sold online are branded kitchenware, gifts and crafts.
The range will expand over the coming months and next year the crumbling village hall will be rebuilt to provide both a social hub for residents and a new visitor centre and shop for tourists to the area.
Residents say that Myddfai today is a stark contrast to recent decades, when it had three pubs, two shops, a post office, a smithy and a slaughterhouse.
Villagers complain that many younger residents have now left to find work elsewhere.
Those behind the project are using the village's heritage to develop the "Made in Myddfai" brand.
Village champion Jo Gideon said: "Steeped in legend, Myddfai was renowned across Europe in medieval times for its skilled physicians.
"People travelled from far and wide to Myddfai for the knowledge of the physicians and their plant-based potions in the hope of curing all sorts of common ailments.
"Today our village project has created a strong Myddfai brand and a range of herbal products based on this heritage, and all profits from the business will be pumped back into the community to secure its future."
Villagers hope the project will win the support of Prince Charles, who bought the nearby Llwynywormwood estate to use as his base when in Wales.