Church 'mission' to raise profile in south west Wales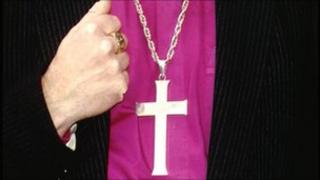 Churches in mid and south west Wales are launching one of their biggest ever drives to reach out to the public.
During the next three weeks over 120 churches are organising special events in pubs, schools, community centres and their own church buildings.
Worshippers will be joined by almost 300 volunteers from across the UK to spread their message.
Called Walk St David it involves churches in Ceredigion, Pembrokeshire and Carmarthenshire.
Organisers say the aim is to take their message beyond the church walls and encourage people across the three counties to become more involved.
It starts with a launch service at St. Mary's church in Tenby on Saturday morning.
Events will range from small scale gatherings in pubs and other social venues to much larger initiatives.
A special gathering to mark the 900th anniversary of Haverfordwest will be held in Castle Square on 25 September and a 'Celebration of faith' will take place in the Great Hall in Aberystwyth on 9 October.
The Rector of St Michael's church in Aberystwyth, Canon Stuart Bell, was chairman of the planning committee.
He said: "This initiative has grabbed the imagination of church leaders and a sense of expectation is rising amongst us.
"There are going to be literally hundreds of different ventures taking place in the hamlets and towns right across south west Wales during the next three weeks."
The volunteers taking part have all been recruited and trained by Through Faith Missions which has organised many large-scale missions elsewhere in the UK.
Canon Bell said the emphasis throughout Walk St David is to go outside church walls.
He said support had also come from schools, youth organisations and community groups.