Turbine electrifies life on Ramsey Island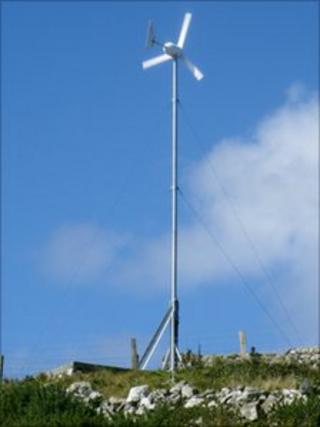 Solar panels and a wind turbine are electrifying the lives of the warden and visitors at a Pembrokeshire island.
For the first time the island's farmhouse and volunteers' bungalow have power on demand instead of relying on a temperamental 10-year-old generator.
The island, two miles west of St Davids, is run by the RSPB and renowned for its wildlife.
Warden Greg Morgan said the renewable energy system was lowering carbon emissions and saving money.
He said although a fantastic place to live and visit, life was fairly basic.
"We have no mains electricity, and until this year, the only source of power we had was a single 10-year-old diesel generator," he said.
"Once, it broke down and, due to bad weather, the engineers couldn't get to the island for two weeks, which meant living without power in the middle of winter. That was a long two weeks.
"The new system is already making island life easier - but the true test will be this winter.
"However, it has already helped us lower carbon emissions and save precious money, which can now be spent on conservation work at the reserve."