28 illegal workers found at Pembrokeshire power plant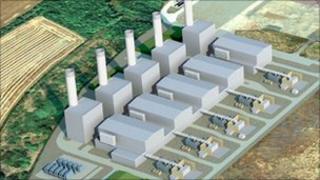 A raid has found 28 illegal workers at the construction site of the new Pembroke Power Station.
The UK Border Agency said the men, all from India, were employed by a sub contractor and had no legal right to work in the UK.
It said the sub-contractor had been served with a civil penalty notice for employing illegal workers.
The site has been the scene of demonstrations by people demanding jobs be given to British workers.
The border agency said acting on information its officers and Dyfed-Powys Police went to the power station early on Thursday.
Eleven of those held remain in immigration detention pending deportation.
Sixteen have been placed on immigration bail while the border agency secures the emergency travel documents necessary to deport them.
One man has been arrested by police on suspicion of using a false identity document.
Julian Smith, head of the border agency's south west Wales immigration team, said if their employer was unable to prove right-to-work checks were carried out a fine of up to £10,000 would be imposed for each worker.
"This was a very complex operation which involved questioning 51 workers and carrying out searches of five residential addresses," he said.
"It was by far the biggest illegal working operation in Wales this year.
"I hope this sends out a message to other employers that you need to ensure your staff are entitled to work in the UK.
Strict controls
"We don't expect employers to be experts at detecting forgeries - that's our job - but there is a legal obligation to carry out basic checks during the recruitment process.
"Illegal immigration takes employment away from the resident labour market.
"There are strict controls on the numbers of foreign nationals that can come to the UK in search of work."
Immigration Minister Damian Green said: "This operation is among many being carried out across the country following the success of a major crackdown on immigration crime during the summer, which generated a large number of arrests, cash seizures and prosecutions as well as fresh intelligence.
"Illegal immigration puts huge pressure on the public purse at a time when the country can least afford it.
"Together with the police and the Serious Organised Crime Agency we will continue to make life as difficult as possible for those who cheat the immigration system."
Once completed the power station, which will be run by RWE npower, will be the largest of its kind in Wales.
There are around 1,500 construction staff working on the plant.