Bumblebees protected on new Pembrokeshire path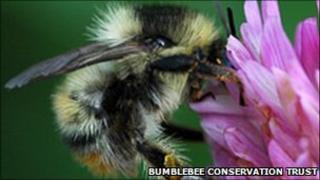 A path that runs near a Ministry of Defence (MoD) firing range in Pembrokeshire is being opened with the conservation of bumblebees a priority.
As well as improving the habitat for the rare shrill carder bees the project also plugs what has previously been a gap in the county's coastal path.
The site near Castlemartin is one of just six in the UK where the species can be found.
Changes will be made to the management of the land so it is more bee friendly.
The firing range covers around 6,000 acres of relatively untouched coastal grassland.
Local ranger Lynne Houlston: "Castlemartin range is an extremely busy live firing range so when the troops are training the coast path is actually closed to the public.
"This new trail will provide a 10K (6.2 mile) trail with the majority off road and it's not just for walkers, it's for horse riders and for cyclists as well."
The Castlemartin Range Trail has been funded by the Welsh Assembly Partnership, working in partnership with Countryside Council for Wales (CCW), the Pembrokeshire Coast National Park Authority (PCNPA) and Defence Estates (DE).
Earlier this year the Bumblebee Conservation Trust won £25,000 in an internet vote to improve the habitat for bumblebees on the land surrounding the path.
Ms Houlston said the way the land was managed was being changed to encourage wild flowers that are so important to the bees.
"Hopefully in the summer there will be increased bees and hopefully a flush of flowers.
"We have been working with the MoD to identify land close to the path that could be managed in a more sensitive way to help improve the habitat for the bumblebees.
"It's taken three years to get to this and it's really stunning. We can't wait."
The path was opened by Wales' Environment Minister Jane Davidson.
She said it brought the assembly government a step closer to achieving its goal of creating a coastal path that spans the entire Welsh coast by 2012.
"The Castlemartin Range Trail allows us to balance the pressing need for military training with the desire of walkers, cyclists, horse riders and others to enjoy this area of spectacular beauty," she said.