Firm wins appeal to operate Swansea dry dock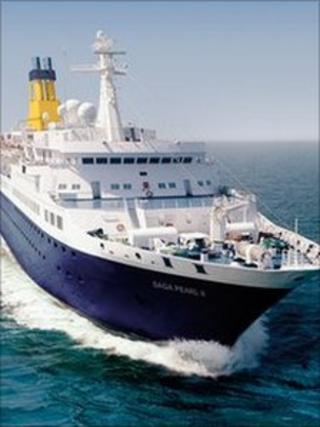 A new company has won its bid to repair and recycle ships at Swansea dry docks, with another losing out - and cutting 50 jobs.
Swansea Drydocks Limited (SDL) announced last year it would invest £4m on-site, creating 80 jobs.
It has emerged it has won an appeal to operate the dry docks after it was initially refused planning permission.
Meanwhile, Barry-based Harris Pye Group said it was "extremely disappointed" it failed to renew its licence.
Finance director Chris Trigg confirmed the company - which has spent £500,000 on the docks with plans to invest another £2m - was pulling out of Swansea by 1 April and 50 people would lose their jobs.
"We have to move out, we can't do anything about that. So are shutting the Swansea site down full stop," he said.
"If we've got work in Wales in the future, it won't be done in Swansea."
A spokesperson for SDL said they would take over the dock when Harris Pye left.
"We are recruiting management and we are looking at hiring a whole lot of people," the spokesperson added.
In November, SDL appealed at a public inquiry against a Swansea council decision refusing its application on grounds it needs planning permission.
But it has emerged the company has won its appeal concerning both dry docks.
It announced last year it planned to invest in the new business to meet the growing demand for environmentally responsible ship recycling facilities, along with carrying out repairs.
The firm has said previously that it planned to recruit a team of about 80 full-time employees, whose activities would also create jobs among suppliers in Swansea.
Associated British Ports (ABP) which runs Swansea's port and docks, welcomed the planning ruling.
"We are pleased also with the decision made as it now allows us to develop the site for both ship repair and with the added security that a recycling operation brings to the port," said an ABP spokesperson.
Harris Pye's plans had involved the possible relocation of its global headquarters alongside the dry docks, costing £5m.
According to its website, last year it employed 200 temporary workers at the docks. Staff worked on the £20m refit of the cruise liner Saga Pearl II.
Swansea dry docks has a long history and is said to be the largest in the Bristol Channel.
There was a mixed reaction from Swansea council.
A spokesperson said: "We're pleased to hear Swansea Drydocks Limited will be creating up to 80 jobs in these difficult economic times.
"The marine industry is a key sector for Swansea's economic growth and this news shows the potential Swansea has to accommodate the marine industry.
"We are disappointed about the decision to terminate Harris Pye's licence given the company's track record and the number of jobs they could have created but the decision not to renew their licence was made by ABP - the landowner at the docks."