Visitor ban lifted at Swansea's Morriston Hospital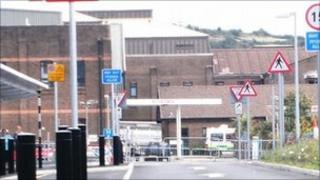 Visiting arrangements at Swansea's Morriston Hospital are back to normal after a total ban following a winter vomiting bug outbreak.
At the height of the norovirus outbreak, all 39 wards were closed to new patients and visitors - except in exceptional circumstances.
General visiting was allowed on 32 of the 39 wards last week, where there were no new cases.
Hospital managers said the ban had helped limit the spread of the virus.
Norovirus causes diarrhoea and vomiting, is highly infectious and can last from 12 hours to three days.
Abertawe Bro Morgannwg (ABM) University Health Board said restricting visiting helps to break the chain of the virus being brought into hospital and also taken back out into the community.
Director of Nursing Victoria Franklin said: "We are usually very pleased to see visitors as we know they play an important role in patients' well being and recovery.
"However, by restricting visiting during this episode of norovirus, it freed up our nursing staff to concentrate on patients.
"Restricting visiting also protected other patients and our staff from possible additional exposure to norovirus, and protected visitors who may have come into contact with norovirus had they come onto the ward," said Ms Franklin.