'Alien' parasites linked to Burry Inlet cockle deaths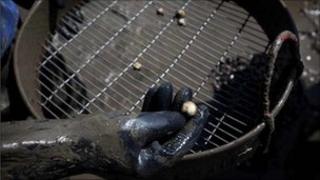 Scientists investigating the death of thousands of tonnes of cockles each year in the Burry Inlet have found two parasites alien to the British coast.
Authorities say they are certain there is no link with water quality.
They are now focusing attention on the parasites which may be causing the shellfish to die prematurely.
A final report into the deaths, which have hit the cockle industry in Gower and Llanelli, is expected in a couple of months.
Giving evidence to councillors in Carmarthenshire, Environment Agency Wales, Welsh Water and the Countryside Council for Wales (CCW) said the focus was now on possible biological factors.
Stuart Thomas, of the Environment Agency, said since 2002, up to 95% of the estuary's cockles were dying after about a year where normally they would be expected to live three to four years.
"The investigation is still ongoing," he said.
"The quality of the water and the water at the shellfish beds is improving."
He said scientists from a number of universities and research centres had also looked at other factors such as water temperature.
"One very interesting development was the discovery of a brand new parasite never seen in UK waters," he added.
These were the Minchinia tapetis and Minchinia mercenaria usually found in American clams.
They have been found on other parts of the British coast experiencing similar cockle deaths.
Huw Williams of CCW said the problem was not affecting any other type of shellfish.
"It's something unique to the cockles themselves that is causing them to die in their first year," he added.
"There are plenty of cockles there but they are not seeing through their life cycle to their second, third or fourth years."
Mr Williams said as well as affecting cockle gatherers, the problem was hitting the estuary's bird population - in particular oyster catchers.
Water quality
He said while roosting numbers were about 80% of what would normally be expected, over half were flying away to find food as the large cockles they normally relied on were scarce.
"They [the oyster catchers] are not putting on the fat we would expect over the winter."
Welsh Water said it had invested £69m in sewerage capacity, storage and treatment to improve water quality in the area.
All new building developments are assessed for their potential impact and, under a voluntary deal, Carmarthenshire and Swansea councils have agreed a limit of 1,000 new homes each in the area until further work is done.
Mr Thomas said the Environment Agency had taken on the role of managing the cockle beds, and when the report is published it may recommend changes to the licensing of gatherers.
"We agree there's a lot more work that needs to be done," he added.
"We will be expecting recommendations to come out of the report when it is published."