Call for allotments at Swansea's Vetch football ground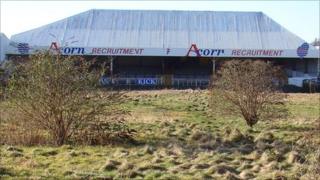 Runner beans, carrots and cabbages may be planted on the site of Swansea's old Vetch football ground, which is currently being demolished.
There are calls to create temporary allotments on part of the land.
The owner, the city council, has had initial discussions about the idea, although it stresses that in the long term redevelopment is the aim.
The city's branch of the Green Party said it would help to tackle a waiting list for allotments in Swansea.
In 2009 the council put the site on the market but said due to the economic climate there was little interest from developers.
Demolition of the stands, terraces and floodlights started this week and is expected to take about four months.
The council intends to landscape the area until a developer can be found.
But there have been calls for it to be used for allotments in the meantime.
Keith Ross, who will be a candidate for the Green Party in May's Welsh assembly election, said: "It's going to take a long time to come up with a new plan that will appeal to developers.
'Win-win situation'
"The Vetch Field site provides the opportunity for Swansea council to create temporary allotments - thereby increasing local food production, reducing food miles and generating additional revenue for the council from rents.
"That sounds like a win-win situation to me."
Labour councillor Alan Lloyd, who lives close to the Vetch, said in an ideal world once the demolition was complete, work would start on new houses and a community centre, as initially planned.
He said he was in favour of part of the land being used for allotments in the short term.
But he added: "It must not detract from the long-term goal of redevelopment and a new community centre for the people of Sandfields."
Swansea currently has about 320 allotment plots on 15 sites across the city.
Fifty of these are either new or have been reinstated recently thanks to funding from the Welsh Assembly Government's Tidy Towns initiative, but there are still about 380 people on a waiting list.
A council spokesman said: "We have held initial discussions about the idea but further discussions will need to take place with the community in the area of the Vetch site.
"Any project of this nature would have to be temporary as the site is intended for redevelopment."