Neath man released over Spanish hotel death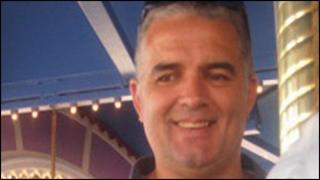 A man from south Wales has been released by police in Barcelona after questoning over a hotel room fight in which his brother-in-law died.
David Keith Brennan, 49, from Neath, was originally held in connection with the death early on Friday of Stephen Storey, 47, who was also from Neath.
On Saturday, police freed Mr Brennan but said he will still have to stay to appear before an investigating judge.
The men were reported to have gone to Spain for a stag party.
Mr Brennan was arrested after police were called to the Ambassador Hotel in central Barcelona just after 0200 GMT on Friday when Mr Storey had died.
But he was released from custody after police investigations showed that his brother-in-law's death was not directly the result of the fight.
Ramblas
A spokesman for the Mossos d'Esquadra Catalonian police force said on Saturday: "The death was not a result of any injury suffered during the fight. But it could still have been a contributory factor.
"That will have to be determined by analysis and medical experts.
"Mr Brennan was released after giving a guarantee that he would remain in Barcelona to be interviewed by the judge heading the investigation.
"It will be for the judge to decide what action, if any, should be taken after that has happened."
Earlier, police said a post mortem examination had shown that Mr Storey had died either from natural causes or because of a biological reason.
The incident happened at the hotel off the Ramblas in the city's Ciutat Vella district.
The Foreign Office said Mr Storey's next-of-kin had been informed and it was providing consular assistance.