Elizabeth Cross for brother of Falklands Welsh Guard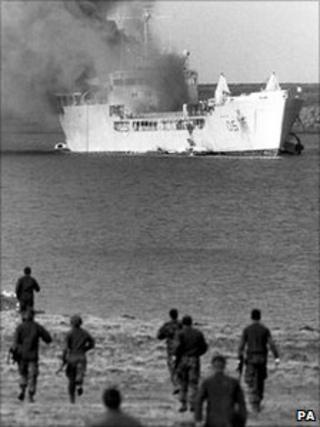 The brother of a Welsh Guard killed during the attack on the Sir Galahad during the Falklands War is to receive the Elizabeth Cross.
Gdsm Michael Dunphy, 21, from Llechryd near Cardigan, was one of 48 members of the British Armed Forces who died when the ship was bombed in June 1982.
His brother James will receive the cross at a ceremony in Carmarthen.
It is presented to the next of kin of UK armed forces personnel who have died on operations.
Mr Dunphy said: "I think it is a good thing that they get something in recognition.
"My mother would have been glad to have received it but sadly passed away last year."
Mr Dunphy said his brother was a cadet and joined the Welsh Guards straight from school.
Jets attacked the ship just six days before the Argentine surrender.
The bombing accounted for almost one fifth of all British fatalities, many of them Welsh Guardsmen preparing to go ashore and join the land war.
Many others were injured, including Simon Weston who became a spokesman for those who fought to recapture the islands from Argentina.
The Elizabeth Cross and Memorial Scroll is being presented by the the Lord-Lieutenant of Dyfed, Robin Lewis.
He will also recognise individuals from the reserve, cadets and civilian employees who have made a special contribution to their organisation or community.
The Elizabeth Cross was introduced in 2009 and is available to the relatives those killed in conflicts since the end of World War II.