Swansea council chief Paul Smith retiring early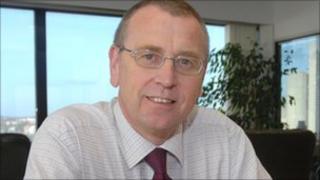 The chief executive of Swansea council is taking early retirement after four years in the post.
The authority said Paul Smith's departure at the end of this month would reduce its management costs.
It will see the number of senior directors cut from six to five, with an existing director replacing him.
The council said it will cost a total of £237,693 to cover Mr Smith's pension costs, but lead to an annual saving of around £130,000.
A review of the council's senior management structure by the Welsh Local Government Association (WLGA) recommended Mr Smith should retire on the grounds of efficiency, but with no enhancements or redundancy payments.
It will contribute to a four-year plan to reduce management, supervision and administrative costs by £10m.
The review said one of the council's remaining five directors should be appointed on a fixed-term basis until four months after the local government elections in May 2012, when the position will be reviewed.
In a statement Mr Smith said it had been a privilege to hold the job.
"Having led the council through a great number of changes at a time of tough financial challenges, I believe this is an opportune moment to retire.
"I would like to thank staff for their support throughout my time in Swansea and I wish the people of this great city every success for the future."
Council leader Chris Holley said Mr Smith had made "a significant contribution" and had led the council "through difficult financial times."
He added: "On behalf of the council I would like to thank Paul for his commitment and leadership during what has been a very challenging time for local government in Swansea and across the UK."