Power station plan for Abernedd, Baglan, delayed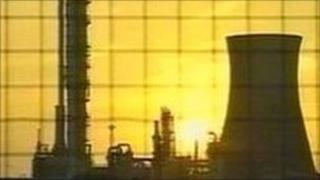 Plans for a new power station have been scaled down and delayed amid "challenging" market conditions.
Scottish and Southern Energy (SSE) said it would halve the capacity of its proposed gas-fired power plant at Baglan, near Port Talbot.
The project has also been pushed back by two years to the end of 2015, and a final decision about whether to invest in the scheme will be taken next year.
SSE also plans to mothball a project for a power station in Fife, Scotland.
Developers said last year that the Welsh plant, in an area known as Abernedd, could power more than two million homes, and bring 1,000 construction jobs during its development.
It was expected it would employ 40 people when fully operational.
It received UK government consent two weeks ago.
It will have a capacity of 450 megawatts (MW) instead of 870MW as initially planned, and have one combined-cycle gas turbine (CCGT) instead of two.
"The medium-term outlook is challenging, which is why we have decided to scale back the Abernedd development," said SSE's director of generation and supply, Alistair Phillips-Davies.
"This will allow us to assess the likely impact of electricity market reform as it emerges over the next year, and to further analyse the economics of any investment before taking a decision to go ahead with a CCGT unit."
The firm has also reiterated plans to mothball its 123MW gas-fired Fife power station at the end of this month.
The power plant was expected to make a loss this year and over the coming years, due to a large extent to high transmission costs charged by the network operator in Scotland.
Twenty-one employees are affected by the decision to stop operations at Fife, but SSE said it was looking at ways to employ the staff elsewhere within the company.
The UK government will publish a White Paper on its electricity market reform proposals in late spring which will then need to be ratified by Parliament.
Neath Port Talbot councillors said they would not object to the Abernedd project last year after it received 13 letter of objection.
Objectors said the area was already home to heavy industry, and air pollution was a problem.