Ex-RAF man, 85, returning to sky in Pembrokeshire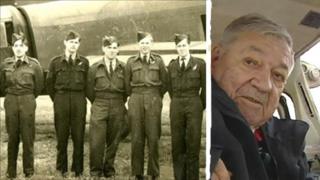 A former RAF flight engineer who flew with Bomber Command in World War II has returned to the sky after fighting back from serious illness.
Among the challenges Des Thomas from Tenby has overcome is learning to walk again on two artificial legs.
Thanks to a Pembrokeshire charity, the 85-year-old was airborne again in a Bulldog plane at Haverfordwest.
Mr Thomas said the flight was a "wonderful experience" and he "enjoyed every second of it".
His son Lyn said since recovering from illness his father had dreamed of flying again.
The flight was arranged as a surprise and he had only known about it in the past few days.
Mr Thomas was a teenager during WWII when he was involved in raids on Berlin and Nuremberg and completing 33 operations with 460 Squadron RAAF.
A second tour with 358 Squadron RAF saw him complete another 16 operations over what was then Malaya, Siam and French Indochina.
He was just 20 when the war ended. He then served in Tenby Fire Brigade for 30 years and was station officer for a large part of that time.
More recently due to illness he lost both legs and following two cases of septicaemia and one of MRSA spent around seven months in hospital.
Sunday's flight was arranged by the Pembrokeshire-based Over The Rainbow Dream Come True charity, which has organised over 400 flights since it started in 1999.
Founder Peter Kraus said: "Someone like Des should be recognised for all he has done during his very active life and it gives me a huge delight to help."