Police warning after Pembrokeshire drug gang jailed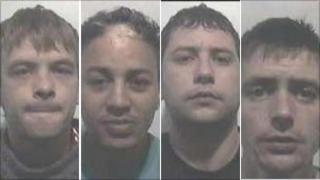 Police have issued a warning to drug dealers after a gang was jailed for trafficking heroin into Pembrokeshire.
Marc Richards, and Neil Scawthorn, both aged 30, Gareth Thomas, 32, and Gareth Partington, 28, who are all from the county, were jailed for a total of more than 20 years.
Dyfed-Powys Police estimated the gang brought up to £22,000 worth of heroin into Pembrokeshire last year.
Officers said the sentences sent out a message to drug dealers.
Police said all four men admitted conspiring to supply heroin.
They were sentenced at Swansea Crown Court last Friday after admitting the charges at a previous hearing.
The Dyfed-Powys force said the offences were committed between 27 August and 20 November last year.
Marc Richards, and Neil Scawthorn, from Haverfordwest, and Gareth Thomas, from Milford Haven, were jailed for five years and four months each, while Gareth Partington, also from Milford Haven, was sentenced to four years.
Police said the gang was caught following an operation which was part of Operation Poker, which targets Class A drug dealers in Pembrokeshire.
The men made 17 separate trips to Bristol and the south Wales area to buy the drugs, which were to be sold on the streets of Pembrokeshire, said police, who had the gang under surveillance.
Det Sgt Richard Lewis said: "We're satisfied with the court's sentencing and pleased that four more individuals concerned in the supply of Class A drugs in our county have been taken off the streets.
"These sentences send out an important message to all drug dealers that Dyfed-Powys Police will not tolerate their activities."
He added: "So to anyone in our community who is supplying drugs, know this - we're watching you, we will catch you and you will go to prison."