Swansea tennis centre: Volunteers take over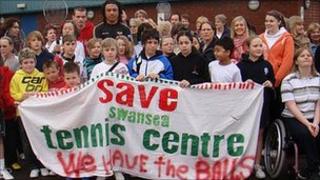 Volunteers have agreed a deal to take over a council tennis centre in Swansea that was facing closure.
Tennis Swansea 365, made up of centre users, is being given the lease on the indoor and outdoor courts near the city's Liberty Stadium.
Councillors initially said it would close to save £120,000 a year but volunteers drew up a business plan and raised funds to keep it open.
They have urged players to support them by using it.
Swansea council cabinet member Graham Thomas said: "This is the ideal outcome for all concerned and is an example of what can be achieved during these difficult economic times when funds are tight.
"We've worked closely alongside Tennis Swansea 365 and the Lawn Tennis Association to reach this point."
The centre will be temporarily closed at the end of March for minor maintenance and reopen under the new management.
Collette Richards, chair of Tennis Swansea 365, said: "Twelve months of incredibly hard work has got us here."
She praised the council for keeping it open during the negotiations and the Lawn Tennis Association and Tennis Wales for their help.
"We're looking forward to seeing our current users back on court and to welcoming lots of new players to help us ensure a successful future," she said.