Llanelli chemical alert 'false alarm'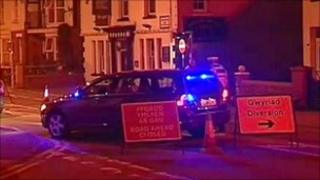 A chemical alert that sparked a mass evacuation of a part of Llanelli may have been caused by a paint thinner, paraffin, diesel or heating oil spill.
The Felinfoel Road area, including the Caeffair Nursing Home and Thomas Arms Hotel, was sealed off between 1800 and 2230 GMT on Wednesday.
Environmental health officers said it was a false alarm.
A small amount of domestic fuel or chemical may have gone into the drainage system, they said.
People were allowed to return home shortly after 2230 GMT on Wednesday while the 33 care home residents and staff who were found accommodation overnight have also been allowed back.
A strong chemical odour was first reported by staff at the nursing home and then detected in the drainage system at various points in the Felinfoel Road area.
Carmarthenshire council said the evacuation was based on the response of fire crews.
Head of public protection for the council Philip Davies said the conclusion reached by investigating officers was "someone may have tipped a small amount of paint thinners, paraffin, diesel fuel or heating oil into the local drainage system."
He added: "A light hydrocarbon spirit odour was detected near a public house a short distance away, but this was not petroleum based, methane or gas.
Square mile
"The hydrocarbon odour was also detected further along the drainage system, but it was just barely detectable."
He said the sewage pumping stations and the sewage treatment plant at Bynea were also checked but "nothing was noted."
Mid and West Wales Fire and Rescue Service group manager Roger Thomas said fire crews worked with police and other agencies to manage this situation.
"The primary role of fire fighters was to assist with the evacuation of residents from Caeffair nursing home and the Thomas Arms Hotel, and to safely bring this incident to a satisfactory conclusion."
Llanelli councillor John Jenkins said the area evacuated was about a square mile in size.
He said: "It was centred near the Thomas Arms public house but they evacuated houses nearby in Old Road, Felinfoel Road and as far up as Parc Howard.
"About 500 houses were evacuated.
"There was a sizeable emergency presence and they blocked off a lot of roads around the area so there was a bit of traffic chaos in Llanelli."