John Cooper 'executed four in Pembrokeshire murders'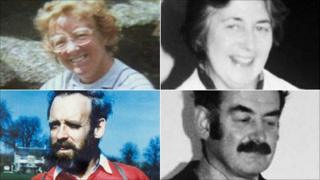 A man "executed" four people in two 1980s double murders four years apart in Pembrokeshire, a jury has heard.
John Cooper, 66, shot brother and sister Richard and Helen Thomas at their remote home near Milford Haven in 1985, Swansea Crown Court was told.
He also shot and killed holidaymakers Peter and Gwenda Dixon, from Oxfordshire, in 1989, it is claimed.
He denies four counts of murder and separate charges of rape, sexual assault and attempted robbery.
Gerard Elias QC, prosecuting, told the court that on the evening of 22 December 1985 Mr Cooper targeted the Thomas's three-storey farmhouse at Scoveston Park, possibly knowing Mrs Thomas, 54, was home alone.
Disturbed by the return of her 58-year-old brother, it is claimed the defendant shot them both before pouring diesel around the house and setting fire to it.
Four years later on, on 29 June 1989, he allegedly killed Mr and Mrs Dixon, who were taking a final walk along the coastal path near Little Haven before returning to their Witney home.
It is claimed he intercepted the couple in daylight, took them to a nearby hideaway and demanded details about their bank cards.
Again using a shotgun, it was claimed Mr Cooper "silenced them forever".
Mr Elias said the killer "took time to create a screen from foliage" to conceal the bodies.
Mr Dixon, 51, was found with his hands tied behind his back. He had been shot three times and his 52-year-old wife twice.
His Nat West bank card had been taken and money was accessed from his account using the correct pin number following his death.
Mr Elias said that on 6 March 1996 the defendant approached five teenagers aged 15 and 16 walking through fields by the Mount Estate School, Milford Haven.
It is claimed he pulled out a double-barrelled shotgun and forced them all to lie face down on the ground.
'Cold, calculating violence'
He is accused of dragging one 16-year-old girl by the hair and raping her at knifepoint. He is then said to have indecently assaulted a 15-year-old girl before threatening the teenagers and firing the shotgun in the air.
Mr Elias said each of the three incidents "involved the use of cold, calculating violence" and two of them "the merciless execution of four people".
He said: "All the victims were subjected to the most terrifying of ordeals."
Mr Elias said each incident was "linked by a large number of common threads". Each involved a shotgun, ropes, and a balaclava, and they all occurred in a small part of Pembrokeshire, he said.
Although each saw a shotgun fired, no cartridges were found at any of the locations.
There was an additional factor of sexual gratification as, as well as the attacks on the teenagers, there was evidence of indecent sexual acts on Mrs Dixon.
Mr Elias said it was "obvious" the crimes were the work of someone "who knew the area like the back of his hand".
He said Mr Cooper "was a local man that lived in a house at the very epicentre of these offences for many years".
He added that during this 10-year period, Mr Cooper was committing a series of other burglaries and a robbery which also involved a shotgun.
In December 1998, Mr Cooper was sentenced to 16 years in prison at Swansea Crown Court for 30 counts of burglary and a robbery, serving 10 years.
Mr Elias said police forces routinely re-examined unsolved murder cases and in early 2006 "a cold case" review into the murders was set-up.
He said as a result of this a number of items were re-examined forensically.
These included the shotgun that the prosecution said was used in the robbery for which Mr Cooper was convicted in 1998.
It was found in a hedge close to the victim's house in Sardis, near Milford Haven, and was shown to the jury.
The jury was told they would hear that blood found on the gun matched that of Mr Dixon.
Also a pair of shorts, recovered from Mr Cooper's bedroom at the time of his initial arrest, was found to have a blood mark DNA profile matching Mr Dixon.
After unpicking the seam, a trace of human fluid matching the DNA profile of Julie Dixon, the daughter of the murdered couple, was also found.
"The defendant took these shorts from the scene of the murder . . . and has treated them as his own forever after," said Mr Elias.
The jury was also told Mr Cooper would use the pathways and hedges near his house as "safes" for storing stolen items and possible incriminating evidence.
A sock removed from Mr Thomas's body was one item found close to Mr Cooper's home.
The trial resumes on Wednesday.