John Cooper fibres 'link Pembrokeshire double murders'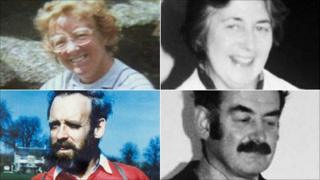 Fibres on clothing and items linked to a Pembrokeshire man establish without doubt that he committed two double murders in the 1980s, a jury has heard.
John Cooper shot brother and sister Richard and Helen Thomas at their remote home near Milford Haven in 1985, Swansea Crown Court has been told.
Mr Cooper, 66, from Letterston, is also charged with killing visitors Peter and Gwenda Dixon on a coastal path in 1989.
He denies four counts of murder and separate sex and robbery charges.
The jury was told on Wednesday that numerous fibres found at all the crime scenes could be traced to clothes belonging to Mr Cooper.
Gerard Elias QC, prosecuting, said that "without a shadow of a doubt" all the items in question were used by Mr Cooper at the locations.
He said a forensic "match" between fibres meant they were "indistinguishable" from what they were being compared with.
Mr Elias told the jury that the links between the various exhibits "point without doubt to the defendant's involvement with the offences that you are trying".
He said: "Are these links mere coincidence, unhappy chance? Or are they links which plainly are not coincidences and show, without a shadow of doubt, that it was the defendant using these items and gloves who committed these offences?"
He added: "These offences were committed by a local man. The prosecution say that the evidence is plain that the local man is the defendant."
Mr Elias built up a picture of the threads allegedly linking the crimes and Mr Cooper.
At its centre is evidence from a 1998 trial at which Mr Cooper was jailed for 16 years for 30 burglaries and a violent shotgun robbery.
The jury previously heard how he headed back to his nearby home after leaving the scene of a robbery.
He discarded items including a shotgun, balaclava and fleece jacket along the way. All the items were later recovered by police.
The court was told a pair of gloves and a single glove that Mr Cooper is alleged to have worn while murdering the Dixons and the Thomases were among those items.
Fibres from the single glove have since been found at the murder scene of the Dixons and on clothes of his alleged rape victim, the jury heard.
Samples taken for forensic examination at a shed on his property also contained identical fibres matching the glove.
Mr Elias said the fibres at the coastal path were found on broken branches used to hide the couple's bodies and were also found on Mrs Dixon, who was discovered partially naked.
He said the findings were "exactly as one would expect if this glove had been worn during the attack on the Dixons".
He said a second group of fibres taken from branches used to hide the bodies were almost the same.
An expert had concluded that these probably came from the missing glove which would match the one recovered, the court heard.
'Merciless execution'
The jury heard that fibres from the glove were also found on clothing taken from a teenage rape victim in 1996.
She had been with a group of friends in a field not far from Mr Cooper's home, when the attack happened.
Mr Elias said fibres from a separate pair of gloves taken from Mr Cooper's home had been found on a shotgun recovered in 1996 from the hedgerow.
The court also heard shorts seized from Mr Cooper, and which are known to have belonged to the Dixons, also contained fibres.
The prosecution claims Mr Cooper, who served 10 years for a series of burglaries and a robbery, used his local knowledge and "cold, calculating violence" to carry out "the merciless execution of four people".
The case against him is that he targeted the Thomas's three-storey farmhouse at Scoveston Park, in December 1985 possibly knowing Mrs Thomas, 54, was home alone.
Nearby hideaway
But disturbed by the return of her 58-year-old brother, it is claimed he shot them both before pouring diesel around the house and setting fire to it.
In June 1989, he allegedly shot and killed Mr and Mrs Dixon, who were taking a final walk along the coastal path near Little Haven before returning to their Witney home.
He is accused of having intercepted them in daylight and taking them to a nearby hideaway, where he demanded details about their bank cards.
He is also accused of an attempted shotgun robbery of five teenagers in 1996, raping and indecently assaulting two girls in the group.
Mr Cooper denies all charges - four counts of murder and separate charges of rape, sexual assault and attempted robbery.
The trial continues.