Jury discharged in John Cooper 1980s murder trial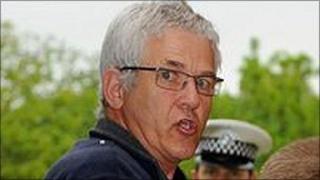 The trial of John Cooper, the Pembrokeshire farm labourer accused of two double murders in the 1980s, has been halted.
The judge, Mr Justice John Griffith Williams, discharged the jury on the trial's fifth day at Swansea Crown Court.
A new jury is being sworn in. The trial is expected to restart on Tuesday.
Mr Cooper, 66, of Letterston, near Haverfordwest, denies two double murders in Pembrokeshire in the 1980s.
He denies murdering millionaire farmer Richard Thomas, 58, and his sister Helen, 54, at their remote home near Milford Haven in 1985.
He also denies the murder of Oxfordshire holidaymakers Peter, 51, and Gwenda Dixon, 52, as they walked along a coastal path near Little Haven, Pembrokeshire, in 1989.
Cooper also denies raping a 16-year old girl, indecently assaulting another and trying to rob money from a group of five youngsters, all on 6 March, 1996.
Mr Justice Williams said discharging the jury was necessary after an unforeseen matter was brought to his attention.
'No criticism'
"It should be said that matters were brought to my attention, sitting in chambers this morning, concerning a juror," he said.
"I decided that there was no option but to discharge that juror from sitting on the jury. It should be said that in taking that course there is no criticism at all of the individual juror."
He added: "It is now necessary to discharge the whole jury and to start again by picking a new jury.
"Fortunately, in excess of 40 (people) who formed the original jury panel are still available."
He went on to say that the 11 remaining discharged jurors would be added to the panel and would be among those available to form a new jury on Tuesday.
The collapse of the trial, scheduled to run for 10 weeks, ensures proceedings in the new one will continue into June.