Singleton Park lodge to be auctioned by Swansea council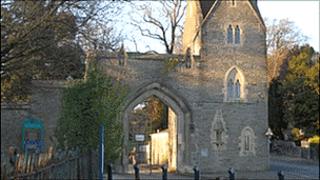 A Gothic tower which was a park keeper's lodge is to be auctioned.
The Grade II listed lodge in Singleton Park, Swansea, is included in Cadw's list of buildings of special architectural or historic interest.
The three-bedroom house will be auctioned after the council decided it could not accurately value the property for a conventional sale.
It was on the market for £120,000, and attracted five tentative offers after more than 50 viewings.
The lodge was built in the mid-19th Century by the London architect Henry Woodyer, who also designed the new schools at Eton College and Cranleigh School in Surrey.
Woodyer, who built it for the industrialist John Henry Vivian, was known for his Gothic revival architecture.
He was also responsible for two other local buildings: St John the Baptist Church in Hafod and St Paul's Church in Sketty.
The tower was formerly tied to the post of keeper of Singleton Park, but has been empty for the last two years following staff re-organisation.
Jo Deak, of Swansea council, said: "We don't want to put a burden on the voluntary sector or taxpayer in having to maintain the property.
"We're keen that it's kept in use. If it becomes a private home it will be kept in its original usage, and the new owners will put passion and enjoyment into preserving it."
Martin Nicholls, head of corporate building and property services, said: "We are delighted with the interest shown so far and hope the new owners will ensure it stands for generations to come.
"It will be a fantastic project for its new owner who will have a unique property in a unique location."
As a listed building, any successful bidder will require Listed Building Consent if they wish to make any 'material alterations' to the house. In addition, the distinctive arch attached to the tower will remain the property of the council.
The lodge will be auctioned on 20 April.