Sainsbury's Dyfatty flats delivery ban council talks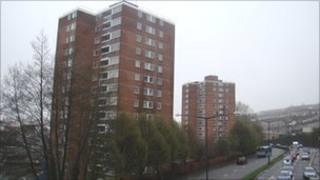 Council officers are to talk to Sainsbury's about its decision not to make deliveries to high rise flats in Swansea.
It has stopped calling at the city centre Dyfatty flats because of "issues over driver safety".
The supermarket would not say why it will not deliver there. Police said they were unaware of any threats or attacks on delivery drivers.
The council said it would talk to Sainsbury's on behalf of residents.
Murig Powell, 65, who lives in a 12th floor flat, said he placed an online order with the supermarket last week.
But hours before it was due to be dropped off he was contacted by the store and told the delivery had been cancelled.
Mr Powell said: "I've been living here 15 or 16 years. I have never been refused a delivery before for anything.
"I was told they had done a risk assessment and due to various issues they would not risk their drivers.
"It does not really matter as I can get my shopping elsewhere - Tesco delivered the following day - but I find it very annoying."
Mr Powell said there was "an element" of residents who behaved badly and said the council flats had become "rougher" in recent years.
But he said it was unfair to penalise other people in the block. There are over 100 flats at the site.
In a statement, Sainsbury's said: "We didn't take the decision lightly, but ultimately the safety of our colleagues is paramount and it's our duty as a responsible retailer to take the appropriate action."
The company said it could not give details of the issues of concern.
But it added: "It is very rare for us to stop deliveries to a certain area and we do so only after a thorough risk assessment where colleague safety is at risk.
"We will review the situation on a regular basis and should circumstances improve we will start delivering to the Dyfatty flats again."
South Wales Police said the force was "unaware of any incident of this nature involving delivery drivers".
A Swansea council spokesman said Sainsbury's had not been able to give it details of any alleged incidents.
"We are however continuing to liaise with Sainsbury's on behalf of tenants," he added.