Fishguard and Goodwick beach protest over dog ban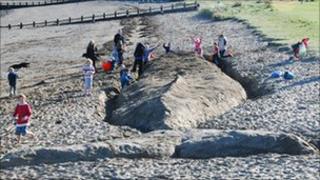 Pet owners objecting to plans to ban dogs over the summer from a beach have staged a dog walk protest.
Fishguard and Goodwick Town Council wants to introduce the restriction at the beach, promenade and car park at the Parrog in Goodwick, Pembrokeshire.
Deputy mayor Richard Davies said the town council wanted to "make sure children were safe".
But objectors say responsible dog owners are being penalised.
The town council wants to introduce a dog control order at the beach between the start of May and the end of September, but they would be allowed back outside those months.
Cliff Benson, one of those supporting the protest, said: "Most of us are responsible.
"The ones that are not are likely to ignore the ban anyway.
"If you come off the [Fishguard to Rosslare] ferry it's the first chance you get to let your dog run about."
Mr Benson, who runs the Sea Trust charity, said dog mess was not a big problem on the beach.
The charity recently invited children to help create two giant sand sculptures in the shape of whales on the beach.
'Sensible'
"We would not take them on there if we thought they were going to get covered in poo," he added.
But Mr Davies said the town council was "only doing what we think is sensible".
He added: "This is a beach where children play during the summer. We had children last year who picked up dog muck, and parents said 'why can't we be like other beaches and ban dogs during the summer?' "
Mr Davies said a festival was planned in August on the beach where there would be a barbecue, tug of war, a raft race and treasure hunt, and the town council wanted to "make sure children were safe".
The consultation is being run by Pembrokeshire council on behalf of the town council.
Eleven beaches in the county are already covered by dog restriction orders.
The council said the final date for responses was 5 May.