Llanelli slimmer of the year takes on London Marathon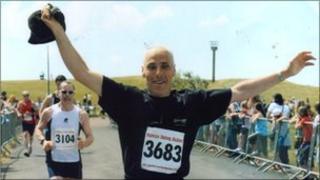 A runner has run the London Marathon after literally becoming half the man he used to be.
Stuart Howells, 44, from Llanelli, Carmarthenshire, shed some 12st 7lb (79kg) in three years and picked up a slimmer of the year title in doing so.
He finished the marathon in 4 hours 33 minutes.
He said: "I'm really pleased, and I think I could have gone even faster if it hadn't been for the heat and the crowds."
Mr Howells used to be 25st (158kg), and swapped fattening snacks of kebabs or nuggets for a healthy salad followed by a run.
He said it was the warning he would die soon if he did not tackle his obesity which drove him on to marathon fitness.
Mr Howells explained: "I went in to see the GP, because I was getting pains in my arms, and breathless walking up stairs, and the doctor told me I had, at most, five years to live, unless I sorted myself out.
"I work with disabled children, and two of my own have autism, and I didn't like the fact that I couldn't keep up with them on the playground; let alone the idea that I'd be leaving them without a dad."
"When I see the things the children achieve - that the doctors told them they'd never be able to - that's all the inspiration I needed."
When he first decided to tackle his weight in 2008, Mr Howells' condition had forced him to quit work.
It also meant that he had to sleep with a machine to battle his sleep apnoea.
Now, through a programme of daily exercise and sensible eating, he can run 20 miles in a go, and has regained his job as a carer.
"It's really, really simple, and anyone who says it's not, like I used to, is just in denial."
"When I think I'm in a rush, and reach for the nuggets or a kebab, I just ask myself if I'm in too much of a rush to be a dad to my kids; then it suddenly becomes easy to knock up a salad and find half an hour for a run."
'Addictive'
"And once you've started, it becomes addictive.
"When I'm out running I see my shadow or reflection in a shop window, and I think 'God! I'd love to look like him: then I realise it's me.
"That doesn't half help you to get your breath back"
Mr Howells is already on the look out for the next challenge.
He has also taken up cycling with his children since losing weight and said that next on the list could be a triathlon - but only if "I can get over the fact that 11st blokes don't float as well as 25st guys".