John Cooper case: Shotgun 'links defendant to killing'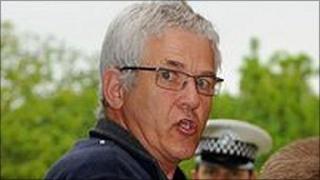 The jury in the trial of a man accused of two double murders has heard claims a shotgun links the defendant to at least one of the crimes.
John Cooper, 66, from Letterston, Pembrokeshire, denies murdering Richard and Helen Thomas in 1985 and Peter and Gwenda Dixon in 1989.
Blood flecks found on the gun matched those of Mr Dixon, the court heard.
Mr Cooper also denies rape, indecent assault and five attempted robberies at Swansea Crown Court.
In the start of forensic evidence, the court heard that in 1998 Mr Cooper was convicted of a large number of burglaries and a robbery in the south Pembrokeshire area.
He was sentenced to 16 years in jail and served 10 years.
His conviction came after an investigation by Dyfed-Powys Powys called Operation Huntsman.
Items found during that inquiry at Mr Cooper's property in or the surrounding area are being looked at by the court.
The prosecution claims that some of the items found by police in Operation Huntsman also link the defendant to the killings in the 1980s.
One of the items was 12-bore double-barrelled shotgun, found in a hedge close to a robbery at Sardis for which the defendant was convicted in 1998.
In its opening statement at the start of the trial, the prosecution said the gun was later found to have flecks of blood which matched those of Mr Dixon.
The jury has already heard that the bodies of Mr and Mrs Dixon were found on a coastal path close to the campsite where the couple had been staying before they disappeared in June 1989.
Gun components
Both had been shot and had wounds consistent with those from a 12-bore shot gun.
On Monday morning, forensic scientist Ian Johnson, who specialises in firearms, told the jury he had examined the gun in 1996 and 1998.
He told the court various changes had been made to it - the barrel and stock had been shortened and attachments allowing for a strap had been added.
Mr Johnson said that in 1998 he was given a bag of gun components which police said had been recovered from Mr Cooper's property.
Among those components was a screw which Mr Johnson said had distinctive markings and was similar to other screws on the weapon, which had one screw missing.
Questioned by Gerard Elias QC, prosecuting, Mr Johnson said: "There is an extremely strong possibility that that screw originated in that shotgun."
Mr Cooper denies all charges. The trial continues.