Pembroke Castle big screen for royal wedding event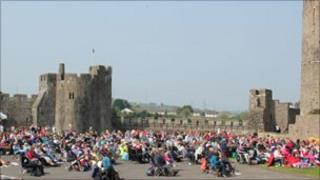 Hundreds of people in Pembrokeshire marked the royal wedding with a day of festivities at Pembroke Castle.
A big screen inside the main castle walls showed the marriage ceremony before the day gave way to festivities including a circus act and hawk demo.
In Swansea, a crowd in Castle Square had extensive TV coverage of the event throughout the day.
Street parties were being held in Swansea, Neath Port Talbot, Pembrokeshire and Carmarthenshire.
Welsh Guard Warren Williams, 40, a recruitment officer from Cardiff, attended the event at Pembroke Castle.
He said he was a fan of the monarchy and he hoped the royal wedding would encourage a sense of Britishness
He said: "I have got the day off today, but I have guarded them for the last 24 years and today is a great day for everyone involved.
"This is a great day-out for families and kids. It is something which we do very well in this country.
"This has been a long time coming but let's hope this will bring us back a sense of Britishness.
"A lot of traditions have been neglected or forgotten, but something like this makes you remember you are British.
"People talk of being Welsh or Scottish or Northern Irish, and the idea of Britain can be forgotten. But we are all British."
Glen Smith, 46, from Pembroke, said the wedding offered a "brilliant" opportunity for a family celebration.
Wife Kelly, 28, and daughters Nicole, eight, and Courtney, three, were all spending the day at the castle.
Mr Smith said: "We are here for the day to celebrate what is going on in London."
"It is something the kids will remember for the rest of their lives. It's great to watch it on the big screen here. It is a great family day."