Puppy farm dogs put up for adoption by RSPCA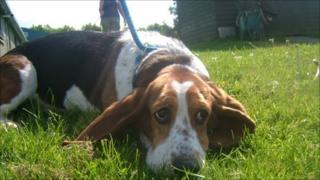 Dogs damaged by the conditions they were kept in on a puppy farm are being put up for adoption by an RSPCA centre.
Llys Nini RSPCA in Swansea has cared for 21 adult dogs taken from a site in Pembrokeshire, but says the animals are not used to being outdoors or on leads.
They had been kept separate from other dogs while used for breeding, said the RSPCA's Alison Lenihan. She said: "They don't know how to play."
The adoptions are part of RSPCA Week, which begins on Monday.
The centre, at Penllergaer, was part of a joint operation with the Dogs Trust and Pembrokeshire council's animal health team which removed 41 dogs from the Pemrokeshire establishment.
The rest of the removed dogs are in Dogs Trust centres around the UK.
The animals taken to Llys Nini range in age from 18 months to five years of age.
They include Cavalier King Charles spaniels, a mini poodle, a Yorkshire Terrier, two labradors, three boxers, a Bischon, and a basset hound.
Ms Lenihan said some had been in small kennels.
"They are a bit agoraphobic. They are not used to socialising with humans a lot either.
"Whoever adopts them needs to be aware of this. They are not going to be adopting dogs who are ready for the home.
"They don't know basic commands. They don't know the word 'no' or how to play. They have never been in that situation with humans.
"They have just been in kennels separated from other dogs."