Pembrokeshire funeral gnomes removal 'a tall story'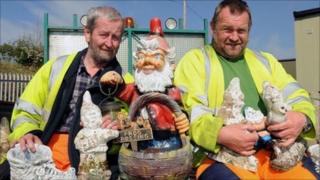 The tale of the council officials accused of preventing a family lining a funeral route with a woman's favourite gnomes has attracted lots of attention.
Newspapers claim they were removed for "elf 'n' safety" - but Pembrokeshire council insists it is a tall story.
The authority says the gnomes and other ornaments were put on the roundabout near Narberth the day after the service for 82-year-old Veronica Pratt.
It removed them a few days later after a Trunk Roads Agency request.
Reports in several national newspapers claim the gnomes were placed on the Penblewin roundabout on the A40 before Mrs Pratt's funeral and then taken away by "elf 'n' safety police".
But the council said the story had been misreported.
It said initially their appearance was a mystery until Mrs Pratt's family contacted the Western Telegraph newspaper to say they had placed them there as a tribute the day after her funeral.
Her family told the paper that Mrs Pratt had always commented on how she enjoyed passing the roundabout - especially in spring when the flowers were in bloom - so they decided to place her gnomes there.
A council spokesman said it removed them a few days later after a request from the Welsh Assembly Government's Trunk Roads Agency on the grounds that they could distract motorists.
They were then taken to a council depot for storage.
And following an appeal for a new home they have now been given to a woman in Pembroke Dock for her garden.