Skokholm island birdwatchers' paintings on toilet walls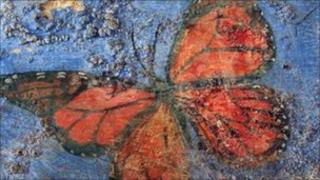 Birdwatchers who painted rare species on the walls of a disused toilet block on a Pembrokeshire island have been urged to continue their craft.
The stunning 'gullery' of wildlife paintings began appearing in a tiny cubicle in the block on Skokholm in the 1960s.
The damp wall has had to be replaced but twitchers are invited to continue the trend in the refurbished building.
The portraits became a tradition to celebrate the sighting of rare species.
Sadly, more than 100 paintings were lost in the refurbishment.
But the Wildlife Trust of South and West Wales, which owns the remote nature reserve, wants wildlife lovers to start a new gallery in the newly refurbished toilet block.
Sam Robins was one of the first artists to contribute.
He said: "No-one can remember who did the first painting, but I'm proud to say at least one of mine is on the wall.
"To see a rare bird on Skokholm was regarded as a privilege which would be marked by taking your watercolours into the tiny loo and painting the species."
The assistant warden Jerry Gillham has not yet had time to restart the wall paintings but plans to launch them with images of a great spotted woodpecker and a little ringed plover.
The woodpecker was the first of its species spotted on Skokholm and appeared in November, while the plover was the third island record.
Skomer warden Chris Tayler said: "This has been a long tradition and the pictures featured a variety of artistic skills.
"We were replacing the roof of the toilets when we noticed how fragile the wall was and sadly it had to be repointed as it wasn't structurally sound.
"Although we lost the paintings, we did take lots of photographs of them beforehand, which will be framed and put up in the new block and in accommodation on the island."
Mr Taylor said the tradition started in the 1960s and there were no plans to discontinue it.
"We will now be asking people to provide the story alongside the pictures in a log so we can hear about their whole experience."
A full gallery of the photos is online on Facebook, on the page Skokholm wall paintings.
Skokholm, which is three miles off the Pembrokeshire coast, was bought by the trust in 2006 after it raised £650,000.
The mile-long island was the first bird observatory in Wales and is one of the UK's most spectacular wildlife havens.