Strumble Head power cables removed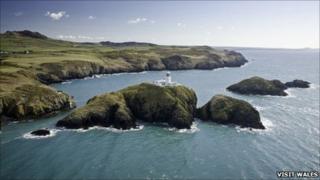 Overhead power cables and phone lines have been removed from a beauty spot in Pembrokeshire as part of a project to improve "iconic sites" in Wales.
The cables have now been buried underground at Strumble Head.
It attracts visitors throughout the year and is popular with bird and porpoise watchers.
Western Power has pledged £1m over the next five years to remove overhead power lines from exceptional areas of beauty in Wales.
BT also agreed to remove 18 poles and placed 600m of overhead telephone cabling underground.
Pembrokeshire Coast National Park ranger Ian Meopham said: "This headland is not only part of the national park, but also part of a Special Area of Conservation (SAC) and a Site of Special Scientific Interest (SSSI).
"It enjoys these protections because it's a unique place in terms of its beauty, its wildlife and their habitats.
"It has always seemed incongruous for it to be affected by power lines which couldn't be described as special or beautiful.
"It's great that we're the first project to get going in Wales using funding from Western Power Distribution, without which we wouldn't have been able to go ahead.
"We also relied on the co-operation of local landowners, for which we are always grateful."
The Pembrokeshire Coast National Park Authority said it hopes similar work could be carried out at other parts of the park.