John Cooper trial: Accused denied Pembrokeshire murders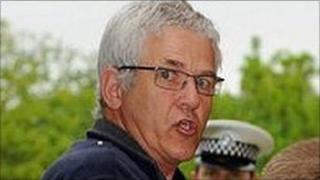 A man accused of two double murders in Pembrokeshire in the 1980s told police he had nothing to do with either.
Transcripts of police interviews with John Cooper conducted shortly after his arrest in 2008 were read to a jury at Swansea Crown Court on Friday.
The 66-year-old farm labourer told detectives he did not kill brother and sister Richard and Helen Thomas at their home near Milford Haven in 1985.
He also denied killing Peter and Gwenda Dixon in 1989.
The couple from Oxfordshire were shot at close range walking the Pembrokeshire coastal path while on holiday.
During the interviews conducted by police in June 2008, Mr Cooper denied having been anywhere near Scoveston Park where the Thomases were murdered on 22 December 1985.
He did later admit he may have been to their home on a few occasions, the jury heard.
During the interviews Mr Cooper also denied that a wedding ring he sold to a jeweller in Pembroke belonged to Mr Dixon, who along with his wife was shot near Littlehaven in 1989.
Mr Cooper denies all murder charges.
He also denies a charge of rape, indecent assault and five attempted robberies in 1996.
The trial continues.