Oil spill concern in River Coran near Laugharne Castle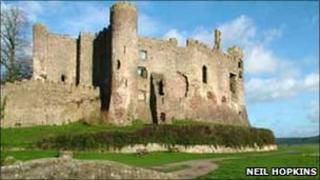 An oil spill has reappeared in a Carmarthenshire river more than a year after a similar leak was first reported.
Pads and booms are being used to try to contain the oil in the River Coran close to Laugharne Castle.
Environment Agency Wales believes it may be coming from a domestic heating oil tank in the town and has urged people to check for any leaks.
The agency made a similar appeal last year when oil was found in the river.
It said the oil sheen was visible in the water and there was a strong smell of fuel at the car park near the castle.
Initial investigations have traced the spill in the general direction of Frogmore and Gosport Streets.
An agency spokesperson said: "We did not have any luck tracing the source of the oil last year and it could come from a similar source.
"We want people to check their tanks for any leaks, see if their oil levels have dropped quickly or if it seems they are using a lot more to get in touch with us.
"We can then arrange to come over and see how we can help stem the flow.
"It is not only the effect in the river that is of concern, replacing lost oil is an expensive business so keeping that loss to a minimum is important."
Anyone who discovers a leak is asked to call the agency on 0800 807060 to report it.