Salem chapel cemetery at Meidrim may be saved by trust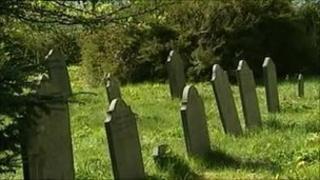 A group of people in Carmarthenshire are forming a trust to protect a chapel cemetery from development.
Salem chapel near Meidrim is likely to be closed and sold by the end of the year as it no longer holds services.
Any future owner of the chapel would be able to remove gravestones if those buried there have no surviving relatives.
Local residents are considering plans to retain Salem's newer cemetery and charge a fee for burials.
Reverend Peter Thomas, general secretary of the Baptist Union of Wales, said there were many problems that need to be addressed when a chapel is sold.
"A chapel is usually sold as a freehold. But the cemetery is set on a long lease and the prospective buyer is made aware of the need to secure access to the cemetery as well as to conform with certain regulations regarding the lease.
"The owner would need the permission of the family before moving any gravestone. But sometimes with old cemeteries, there are no families left.
"There is a process where the prospective buyer needs to advertise his intention to remove memorial stones and to grass over the area.
Residents of Meidrim, together with the church in nearby Llangynin, are considering the prospect of fencing off part of the old cemetery, and retaining the new cemetery and a few older graves of past preachers.
The new owner of the chapel would be responsible for the old cemetery, but the new cemetery would be maintained by a trust made up of local people.
They would keep the cemetery tidy and would charge a fee for burials in the future.
Eric Davies, secretary at Salem chapel, opens the door at Salem Chapel every Sunday, although no services are held there anymore.
The only member present on a Sunday, he reads from the scriptures, and visits the cemetery.