John Cooper shown 'Pembrokeshire murder' shotgun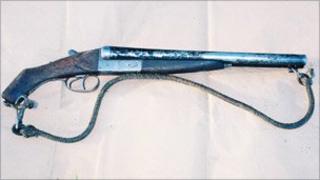 A man accused of two double murders in Pembrokeshire in the 1980s has been shown a shotgun on which traces of one of the victim's blood was found.
John Cooper, 66, denies the weapon found close to a house he was convicted of robbing in 1998 was his.
Giving evidence at Swansea Crown Court he maintained he was wrongly convicted of the crime.
He denies shooting brother and sister Richard and Helen Thomas and holidaymakers Peter and Gwenda Dixon.
He also denies rape, indecent assault and the attempted robbery of five teenagers near the Mount Estate in Milford Haven in March 1996.
The prosecution say items, including the shotgun, found near the scene of the robbery in Sardis linked Mr Cooper of Letterston, to the murder of the Dixons.
It said due to advances in forensic science traces of Peter Dixon's blood were later found on the gun.
But Mr Cooper denies the weapon was his and told the jury he had not modified it.
The Dixons were shot on the Pembrokeshire coastal path near Little Haven in late June 1989.
The Thomases were shot at their house at Scoveston Park on 22 December 1985.
When Mr Cooper was arrested for the robbery at Sardis police found wartime shotgun cartridges and bullets, similar to those kept by Mr Thomas, buried in a tin in the grounds of his house.
Prosecuting barrister Gerard Elias QC asked him whether he had taken them from Skoveston Park.
Fell into a dead Christmas tree
"Most certainly not," he replied.
The barrister also repeatedly asked Mr Cooper about the severity of the arthritis he suffered at the time of the robbery.
Mr Cooper has told the jury that he had limited movement in his left arm and was often in severe pain.
Mr Elias also questioned him about entries in a diary he kept at that time and a statement Mr Cooper gave to police in 1997.
He questioned an account of how Mr Cooper sustained injuries to his hands and face around the time of the robbery.
Mr Cooper told the jury he fell into a dead Christmas tree in the grounds of his house while tending to his chickens.
"Do you make things up as you go along?" asked the barrister.
Mr Elias also asked him whether he had a gambling problem in the 1980s.
"Would it be right to say you gambled away a lot of money?" he asked.
"No, it would not be right to say that," replied the defendant.
Earlier in the trial Mr Cooper's son told the jury he remembered his father going for long evening walks, sometimes with a shotgun under his jacket.
But when asked about this by Mr Elias the defendant said his son was mistaken.