John Cooper sold wedding ring days after Dixons killed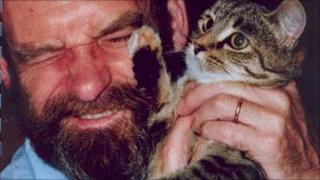 A man accused of shooting dead a couple on holiday in Pembrokeshire has told a jury he sold a wedding ring to a jeweller days after they were killed.
But John Cooper, 66, told Swansea Crown Court it did not belong to Peter Dixon.
The bodies of Mr Dixon and his wife Gwenda were found on the county's coastal path on 5 July 1989, the same day Mr Cooper sold the ring.
Mr Cooper denies killing them and brother and sister Richard and Helen Thomas at their home in 1985.
He also denies rape, indecent assault and the attempted robbery of five teenagers near the Mount Estate in Milford Haven in March 1996.
Earlier in the trial the jury heard police have never found Mr Dixon's wedding ring.
Mrs and Mrs Dixon, from Oxfordshire, were shot while they were walking near Little Haven, on the last day of their holiday.
Giving evidence for a third day Mr Cooper was shown a receipt for the ring he sold to jeweller Raymond Smith in Pembroke for £25.
He agreed the signature on the paperwork was his.
Prosecuting barrister Gerard Elias QC said: "The ring you sold to Mr Smith was the ring you had taken from Peter Dixon?"
Mr Cooper replied: "That's not true."
Mr Elias also questioned Mr Cooper about the death of the Thomases at their home at Skoveston Park on 22 December 1985.
Both were shot and their house was set on fire.
The barrister said when Mr Cooper was questioned by police in 1998 about the killings initially he told officers he had never visited the property but later said he had been there on occasions.
"Was it because you were trying to distance yourself from that place because you knew what you had done there?" he asked.
The defendant replied: "It was hard to recall it because they were fleeting visits."
Mr Elias also returned to Mr Cooper's conviction for 30 burglaries and an armed robbery in 1998.
Mr Cooper again told the jury he was wrongly convicted but did tell them he bought and sold stolen goods in the mid 1990s.
A pair of gloves found in Mr Cooper's home had fibres on them that matched a fleece worn by the robber.
Fibres also linked the gloves to a cord on a shotgun recovered close to the scene of the robbery in Sardis. The gun was also found to have a trace of Mr Dixon's blood on it.
"Is it another sad and unfortunate coincidence that there are fibres on the gun used in the robbery that you were convicted of that match the gloves found in your house?" asked Mr Elias.
"I can't account for it," Mr Cooper replied. He said the gloves belonged to his son.
Mr Elias said that two of the 30 burglaries that Mr Cooper was convicted of occurred on the 10 and 23 February 1996 close to the Mount Estate.
The rape, sexual assault and attempted robberies occurred on 6 March.
Mr Elias asked: "Is it just another amazing coincidence . . . that within 10 days or so that rape should have occurred in the very area that you were carrying out burglaries?"
"I was not in that area doing burglaries," Mr Cooper replied.
The trial continues.