Uncle's cycle tribute to Ben and Catherine Mullany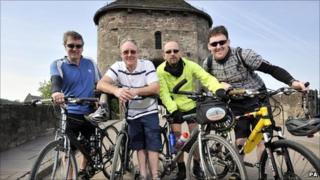 The uncle of a man killed on his honeymoon is attempting to cycle almost 200 miles across Wales to keep his late nephew's memory alive.
Michael Meredith, who had a heart attack, is riding to pay tribute to murdered newlywed Ben Mullany.
Mr Mullany and his bride Catherine were shot dead in July 2008 in Antigua.
Mr Meredith, 58, and three friends are leaving Anglesey with the aim of reaching Swansea, where the couple lived, within 24 hours.
The families of the couple are still waiting for the trial of two men charged with their murder to begin.
Judo enthusiast Mr Meredith said: "The past three years have been very tough for everyone who knew and loved Ben and Cath.
"They were a fantastic couple and their lives were so cruelly snatched away."
He is being joined by friends Terry Maloney, John Cole and Kelston Glover.
They were leaving from Bull Bay in Amlwch on Monday morning, going via Caernarfon, Aberystwyth, Llandeilo, Ammanford and Pontlliw before hopefully arriving outside the Dragon Hotel in Swansea.
In 2009 Mr Meredith, of Pontllanfraith, Caerphilly, walked and cycled 400 miles in 2009 with fellow Tesco workmate Mr Maloney, 53.
"I swore I would never do anything like that again," he added.
"But with the trial coming up I wanted to do one more big challenge in memory of Ben.
"He was a very fit and active person and no doubt would have appreciated the physical test."
Mr Mullany and his late wife, a qualified doctor, died two weeks after they had married in a church near their semi-detached home in Rhos, near Pontardawe.
The couple, both 31, were shot on the day they were supposed to be returning from their honeymoon to south Wales.
Since then the couple's friends and family have worked hard for their memory to live on via a charity.
Duchess of York
The Mullany Fund was established in the wake of the killings and provides financial assistance to those studying medicine as well as physiotherapy.
As well as winning the backing of the Duchess of York Sarah Ferguson and cricket legend Sir Viv Richards, people across the Swansea Valley have helped with fundraising.
"So many people have been amazingly kind, some of which who never even knew Ben or Cath," said Mr Meredith.
"Everyone in my family can't thank people enough with our quest to make sure Ben and Cath's name lives on.
"The charity has kept us going in many respects and it is important that something good comes out of such a terrible tragedy."