John Cooper trial: Shotgun cartridge link questioned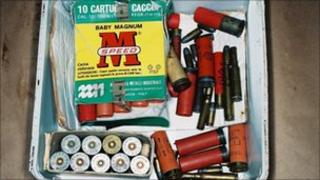 A shotgun cartridge found in the house of a man accused of two double murders in Pembrokeshire was very common, a jury has heard.
Swansea Crown Court had been told that a wartime cartridge found in John Cooper's house was similar to those kept by victim Richard Thomas.
Firearms expert Joseph Harriman said "hundreds of millions" had been made.
Mr Cooper, 66, denies killing Mr Thomas and his sister Helen and Peter and Gwenda Dixon in the 1980s.
The Thomases were shot at their house at Scoveston Park near Milford Haven on 22 December 1985.
Mr Harriman was shown a box of ammunition recovered from Mr Cooper's home.
The prosecution had previously said one wartime cartridge found in the box was similar to some kept by Mr Thomas.
Mr Harriman agreed with the prosecution expert who said the cartridge was likely to have been made before the 1960s.
But he said they were manufactured in the "hundreds of millions."
The defence also called jewellery expert Craig O'Donnell.
After examining a photograph of Mr Dixon's wedding ring he said he had doubts it was the same as the one Mr Cooper sold to a jeweller shortly after the Dixons were killed.
The couple from Oxfordshire were shot while walking the Pembrokeshire coastal path near Littlehave in late June 1989.
Mr Cooper sold a wedding ring to jeweller Raymond Smith in Pembroke for £25 on 5 July 1989 but denies it was Mr Dixon's.
The court has heard Mr Smith thought he had based his valuation of the ring on £5 per gramme for 22 carat gold.
But Mr O'Donnell said from the picture he had seen he thought Mr Dixon's ring would not have weighed five grammes.
"There is a chance it could be the same ring," he said.
"Looking at the photograph I have my doubts that the ring did weigh five grammes."
Mr Copper, of Letterston, is also accused of rape, indecent assault and the attempted robbery of five teenagers near the Mount Estate in Milford Haven in March 1996.
He denies all charges and the trial continues.