Swansea FC's play-off success 'lifts city's mood'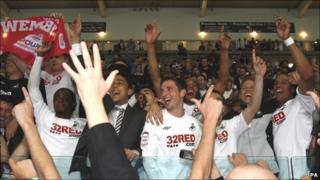 Council leaders say the city's mood has been "hugely" lifted with Swansea a match away from a place in the Premier League.
Promotion would be worth an estimated £90m to the football club, which a decade ago was close to collapse and changed hands for £1.
"It is amazing what we are seeing from 10 years ago," said council leader Chris Holley.
The Swans could face Cardiff City in an all-Wales final at Wembley on 30 May.
They meet the winners of Tuesday night's semi-final second leg between their south Wales rivals and Reading.
Swansea City earned their place in the Championship play-off final after defeating Nottingham Forest 3-1.
Mr Holley said: "I don't think you can really say how far they have come ...when we were close to going out of the Football League."
He said the play-off place means "lots of things in different ways" for Swansea, adding that despite bad economic news, the result changed how local people felt.
"People in Swansea feel hugely better as we won through to Wembley," he said.
'Exodus of fans'
Elsewhere, Swansea City fans continued to celebrate Monday's result which sees the club just "90 minutes away" from life in the Premier League.
Supporters' Trust members say securing a play-off place firmly puts the club's "dark days" to rest.
It was in the 2001-2002 season when off-the-pitch trouble saw the Swans narrowly avoid folding.
Swansea City Supporters' Trust membership officer Alun Lewis said the days the trust was formed in 2001 to restore the club's fortunes are a contrast to today.
"We have come a huge way," said Mr Lewis.
"Eight years ago we nearly went out of the Football League and now we're 90 minutes away from the Premiership.
"It's really great times for the Swans," he said, predicting an "exodus of fans from Swansea and possibly south Wales" heading to the London play-of final.
A game against Cardiff would be a "dream final", according to former Swansea manager John Hollins who guided them to a short-lived promotion from the old Division Three in 2000.
"I've got good memories though, terrific memories," he said.
Hollins was at the club during the second time the club's future seemed less assured.
'A great season'
Nearly a decade ago the club was in a state of financial uncertainty, with a £1.7m debt in 2002 threatening its future, before a rescue by a local consortium.
By the end of 2005 Swansea were in League One, had moved from the Vetch to take up residence in the Liberty Stadium, before reaching the Championship in 2008.
And that strength has continued to build, according to Swansea City Supporters' Trust vice chair Will Morris reflecting on Monday's result against Nottingham Forest.
"It has been the culmination of a great season," he told BBC Radio Wales.
After the game, Swans midfielder Nathan Dyer said it was "every boy's dream to play at Wembley".
"For me, I hope we can get to the promised land, the Premiership - that's where we belong - our football shows that and I'm sure we're going to get there," he said.