Swansea City fans queue five hours for Wembley tickets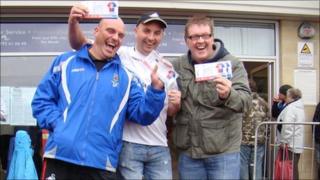 Swansea City are turning supporters away from the Liberty Stadium so they can cope with the demand for Championship play-off final tickets.
Fans have faced five hour-long queues to get their hands on tickets for the Wembley showpiece on 30 May.
Supporters with the current priority purchase are urged to book online or by phone instead.
Wednesday's queue, which was meant to be open until 2000 BST, was cut at 1510 BST. It reopens at 1100 BST Thursday.
"Please note that there are plenty of tickets available to satisfy demand and supporters are urged to be patient," said a statement on the club's website.
Swansea have been allocated 39,376 tickets for the match against Reading which will see the winner clinch a place in the Premier League.
Supporters with priority purchase status are urged to use the online booking website www.ticketzone.co.uk or phone line 0844 2491912 instead.
The Swans earned their place in the Championship play-off final after defeating Nottingham Forest 3-1 on Monday night.
Council leader Chris Holley has said the win had brought a feelgood factor to the city, as well has being a sign of the progress the club had made since nearly going out of business in 2002.
"I don't think you can really say how far they have come ...when we were close to going out of the Football League," he said.
He said the play-off place means "lots of things in different ways" for Swansea, adding that despite bad economic news, the result changed how local people felt.